Interview conducted by todd starowitz
In this installment one of "My Baseball Journey," NPA introduces Sawyer Gipson-Long, the 17th-rated prospect in the Detroit Tigers organization.
The 25-year-old Gipson-Long made his major league debut on September 10, 2023, and allowed four hits while striking out five against the Chicago White Sox. In his next start, this time in Los Angeles against the Angels, the Mercer University product struck out eleven while allowing only two hits in five innings pitched.
In four appearances in 2023, Gipson-Long worked 20.0 innings and tallied a 2.70 earned run average and a 1.10 WHIP while striking out 26 and walking eight. He quickly garnered attention from Rob Friedman, Twitter's "Pitching Ninja," for his "filthy changeups."
Gipson-Long first met NPA President founder and president Tom House while attending Etowah High School (Woodstock, Georgia), but didn't begin NPA protocols until 2020, when he started working with NPA Vice President Robert Ambrose, who coaches in the Atlanta area. 
How is your offseason going: "It's been great. I'm out in Arizona right now. I've started throwing and lifting again. I took ten days at the end of the season to go to Italy. That was so fun. My favorites were Sorrento and the Amalfi Coast. Both were great."
You were a four-time varsity letter winner in swimming at Etowah High School in Georgia. How did that help your baseball journey?: "Swimming was my first sport, and I started when I was about three or four. I was in the water before anything else. I was pretty much a year-round swimmer. I got away from it about halfway through high school because I was more focused on baseball. I was more competitive during the high school season than the club season because the club season was during summer baseball. As an off-season sport, it was great for my conditioning. Being a dual-sport athlete gave me more range in my abilities, and it helped me be more athletic on the field. There are some moves in swimming that you don't get on the baseball field. It definitely helped with core strength, hip strength, mobility, and leg strength that I wouldn't have gotten elsewhere. I was mostly a backstroke guy. The butterfly is hard, but I think I was pretty decent at it. I only know a few guys who did the baseball and swimming combination. Cincinnati Reds catcher Tyler Stephenson was a swimmer."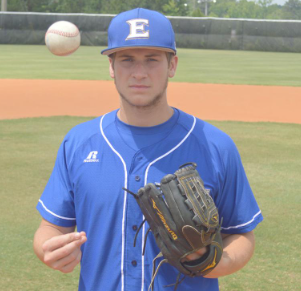 How was your high school baseball career?: "I didn't make the varsity team in high school until my junior season, and then I played varsity as a junior and senior. I got a little bigger and a little stronger as I got older. As I was going through the recruiting process, there weren't many schools interested, especially Division I schools. I didn't throw hard enough at that time, but I had the ability to locate. I had a good slider and changeup in high school, and the ability to change speeds was good for me
Mercer University saw me at a travel ball event in LakePoint (Cartersville, Georgia), where I pitched against the Orlando Scorpions, who had a really good team. I was touching the upper eighties. I did really well and threw a lot of strikes. I don't think I touched ninety until I got to college. Mercer brought me in for a visit and offered me a spot on the team. Mercer was the only DI school to offer me, and I didn't have too many offers from schools on any level.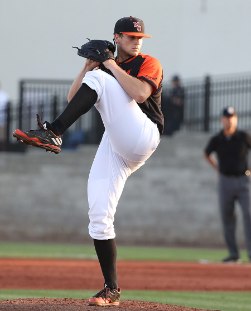 In an interview with Bally Sports Detroit, your mom said you've always had a cerebral approach to the game and enjoy math and word games such as Scrabble. Do you think the National Pitching Association appeals to athletes who embrace a cerebral approach to the game?: "I've always liked that the NPA is backed by research and it's an evolving program. There are core principles that Tom (House) and (NPA coach) Robert (Ambrose) follow, but they always want me to question things. They want you to be in control of your own journey. 
Tom wants you to stay within the guardrails, but the way to get to the end goal is different for everybody, and the NPA does a good job of making that known. There are certain things that you need to do, but there are other things that are up to you to figure out. For me, being able to think through things and not have a set schedule or bullet points helps me out. There are objective and subjective parts of the NPA program that benefit me really well."
When were you first exposed to the National Pitching Association?: "When I was early in high school, Tom House came to speak at Windward Baseball Academy in Alpharetta, Georgia. It was the first time I was exposed to Tom and found out who he was. I didn't really get into the NPA stuff until 2020 during COVID. During the summer of COVID, I hurt my elbow. I had a few injuries before that, including a shoulder injury and some back issues. I never needed surgery or any type of invasive procedure, but I knew something was wrong, and I didn't want to keep getting hurt or need to have surgery at some point. 
I was working out at a guy's house, Paul Haynes, because all of the facilities were shut down because of COVID. He had a barn in his front yard and a cage with a throwing lane. He told me about (NPA Vice President) Robert (Ambrose) because Robert was teaching his son. He said it was the NPA program and that NPA is Tom House's organization. I said, 'Oh, I know that name. He's really smart.' Paul gave me Robert's contact info, so I emailed him. I met Robert about a week later at his place in Peachtree City, Georgia. From the get-go, the stuff he was showing me clicked for me. I said, 'Wow, I don't do any of this stuff.' But I need to be here because it made sense."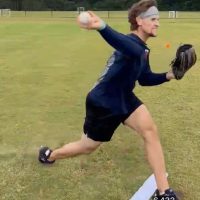 Sawyer training to improve his efficiency with vector management with Coach Ambrose
What were some of the most significant suggestions that Robert made when you began working with him?: "The firm front side was a significant change for me. I'd been used to pulling my glove. I didn't know I was doing it, and it wasn't something I'd been told to do, but I think it developed from some of the drills I did earlier in my career. Keeping my eyes level was very important. Because I pulled my glove, my eyes didn't stay level. I was a lot more over the top, and my eyes weren't level at all. Getting my eyes back to level and maintaining a firm front side really helped me clean up my arm action and keep my arm healthy. The arm care and the warm-up were also huge for me because I always needed a better warm-up."
How did you navigate the rough spots of your minor-league journey? "Having the NPA stuff and using it wasn't quite as accepted as I would have expected. There are definitely things that people questioned me about that I had to defend. There are a lot of teams that do Driveline, Top Velocity, or whatever other program, and I had to defend myself more because of what I was doing. I would never be combative with my coaches. If they wanted me to do something, I'd do it, but I'd also do the NPA program. I wasn't trying to fight them and say this is stupid. I'd try it, but I'd do my NPA stuff as well. I knew my NPA stuff was what I needed to do, and I could still do that and do what the coaches wanted me to do.
 I've always been someone who knows there are authority figures who have more say and more pull than I do, so I'm not going to fight them. I don't have the power to fight them, but I do have the power to manage my own time and do my NPA stuff when needed, which may be after the game or before we warm up. That's what I have to do. I do a lot of towel drills and Hershiser drills, and I really like the velo balls and bats, and I love the vector bands. The vector bands are freaking awesome." 
How did you deal with the mental side of navigating the minor leagues: "I'm a Christian, so I rely a lot on God and reading the Bible. Having an outlet outside of baseball where I can decompress is helpful. I like to fish, read, and play video games. If your life is all about baseball and you have all your eggs in one basket with baseball, if you quote-unquote fail, you'll feel like your whole life is over. Everything isn't about baseball. I need to be a good person, foster relationships, and have a good relationship with God. Some guys put too much effort into partying instead of baseball. On the flip side, some guys are solely focused on baseball, and when they struggle, they don't have anywhere else to turn, and they feel like a failure. I've never felt that if I didn't end up in the big leagues that my life was over. There are a lot of different things I can do."
In 2022, the Minnesota Twins traded you to the Tigers. How did you react to the trade?: "At the time, someone in the clubhouse told me this may be the best thing that ever happened to me. I don't remember who it was, but it was one of my teammates. I could have looked at it like, 'This is terrible. Why did they trade me?' or I could see it as a new opportunity with a team that wanted me. I knew I wouldn't be in the trade if the Tigers organization didn't feel I was valuable. I looked at it as being my chance at the big leagues, and I said, 'Let's go!'"
How did you develop your changeup?: "The changeup for me has been a pitch that I've never figured out. It just never got as much vertical break off of it as I wanted or needed. A lot of times, it was just flat, and it needed to be better. It was a pitch that I had to try something new with every day for two years. I finally figured it out, but I can tell you a million ways who I can't throw it, but only one way I can. It took me years to figure that out. It's the hardest pitch to learn because you have to experiment with it. You can't be afraid to experiment because everyone's changeup is different. 
Finding the best grip that works for you might take years. It's trial and error, trusting the process, and not getting upset if it doesn't work. You have to go to the next one. Eventually, you'll find the grip that works for you. I'm kind of a supinator, so my changeup is a Vulcan grip with my middle and ring finger across the ball, but it's a little offset. With the Twins, I did some experimenting with it, and it moved the best when I was using the Vulcan grip. I knew I couldn't pronate as well as some people, so I had to figure out where to place the Vulcan grip on the ball to make it do what I wanted it to do. The cutter was easier for me because I am more of a supinator at release, and I throw a good slider, so I needed to find the middle ground between my fastball and slider, which made it easy. I had a good idea of what I needed to do. I had better and more information about the cutter than the changeup."
What were the emotions of your first MLB outing: "The Tigers told me they wanted me to be in the big leagues, but they felt my best chance was out of the bullpen. I said, 'Great, I'll do whatever.' I threw out of the bullpen for two outings. It was okay, but it could have been better. I had a rough outing, and the coaches called me in for a meeting. They told me with everything that was going on, they wanted me to start again. A few guys at Triple-A were hurt, so we didn't have many arms in Toledo. Then they told me, 'We want you to start again, but you will start in Detroit on Sunday.' I started crying. I didn't know how to react. 
Obviously, I called all of my family and friends. I went to Detroit that week. I started, pitched well, and my family was there. I put all of my faith in God at that moment. That took the pressure off of me. I knew I was a big leaguer, and no matter what, moving forward, I'd always be a major league baseball player. My debut was my easiest start. The subsequent starts were more stressful because I knew I needed to find a way to stay around."
Sawyer in his MLB debut where he got to show off the hard work he has put in developing his mind, body and delivery.
What is your offseason plan?: I finished the year strong and proved I could compete at the major league level. Now, it's honing my skills. As a broad goal, it's increasing value because anyone can benefit from that, whether it's mechanically or strength. I'm going to hammer that. I need to continue to remain healthy. I'm spending more time on recovery. I need to work more on my cutter to locate it better because it's still a relatively new pitch for me. I want to continue to increase perceived velocity, take a closer look at the velocity spreads on my pitches, and do my due diligence to research even more what it takes to be a successful big-league pitcher."
How did NPA Vice President Robert (Ambrose) help you on your journey: "Robert has a military background. He was in the Marines, so he's super honest with you. He's not a guy who is going to blow smoke up your ass and tell you what you want to hear. Robert's going to tell you what you need to hear. I love it because it gives me something to work at.
If he tells me I'm weak here, or my mechanics suck, and I need to fix it, then I know what I need to do. Robert's really smart. He's been with the NPA for a number of years, and he knows his stuff. He's always available to me when I have questions. I'd send him a video, and he'd respond almost immediately. He never sleeps. He's always available, he always shoots me straight, and he's incredibly smart and knowledgeable."