Our National Pitching management team, regional directors, coaches, and certified facilities all uphold our core values of honesty, trust, mutual respect, excellence, responsibility, teamwork, and passion while instructing athletes in our health-first and science-backed pitching program.
Our National Pitching management team, Dean Doxakis & Robert Ambrose, manage the Tom House baseball organization's regional directors and coaches to ensure the highest quality training for athletes of all ages and skill levels. This helps us maintain program consistency throughout all regions of the U.S. and ensure athletes learn our science-backed methodologies for the greatest level of success.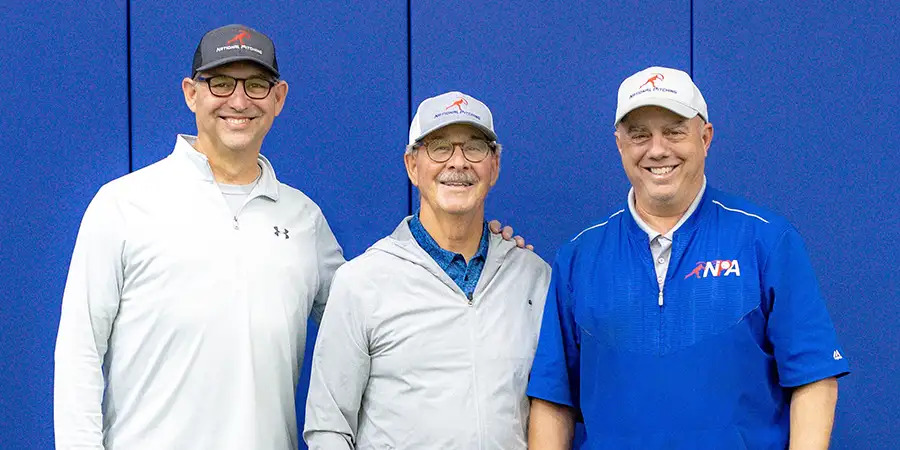 Dean Doxakis
Vice President – Tom House Sports
Master Performance Coach in:

Biomechanics
Functional Strength
Nutrition/Recovery
Mental Performance

Director of NPA coaching staff
15+ years of experience coaching athletes in multiple throwing sports.
Texas A&M Graduate – Bachelors of Science
Actively training athletes daily, based in Houston, TX.
Tom House PhD
Considered by many to be the "father of modern pitching mechanics."​
Renowned for health and performance research and development of rotational athletes in movement​
Pro Pitcher and Coach for 30 years for the Atlanta Braves, Boston Red Sox, Seattle Mariners, Houston Astros, San Diego Padres and Texas Rangers​
Advisor with the American Sports Medicine Institute and the Titleist Performance Institute​
Robert Ambrose
Vice President of Info/Technology – Tom House Sports
Master Performance Coach in:

Biomechanics
Functional Strength
Nutrition/Recovery
Mental Performance

Developed key training protocols and research for the organization​
Works closely with Tom House to develop the STAT testing program used to train our athletes.​
Has automated many of the training protocols that we use daily to train athletes from youth to professional baseball​
BS Professional Aeronautics, Embry Riddle University​
BA Computer Based Information Systems, Georgia State University