Interview conducted by Todd Starowitz
In this installment of "My Baseball Journey," NPA introduces Shane Greene, a 2019 all-star with the Detroit Tigers.
 The 35-year-old Greene was a fifteenth-round selection of the New York Yankees in the 2009 draft out of Daytona State Community College. The Yankees traded him to the Tigers in December 2014. With the Tigers during his all-star season in 2019, he allowed only 21 hits and five earned runs while striking out 43 in 38 innings pitched before being traded to the Atlanta Braves.
 Greene first met and began working with NPA President founder and president Tom House and NPA Vice President Robert Ambrose during the offseason prior to the 2023 season. He pitched a total of six innings for the Blue Jays, Dodgers, and Yankees in 2022 before being released. He was out of baseball until signing with the Cubs on June 23, 2023, and he was on the mound at Great American Ballpark when the Cubs faced the Reds on  September 3. In three innings of work for the Cubs in 2023, Greene allowed three hits and no earned runs while striking out three.  
How did your baseball journey begin?: "When I was about nine years old and still playing on the little field, I played shortstop, third base, and pitched. I was one of the kids back then that, whatever the rule was, I was pitching the maximum allowable innings. I played against the (2001) Apopka Little League team that advanced to the Little League World Series and lost to Danny Amonte's Bronx team. (Editor's note: Amonte threw the first perfect game in LLWS history, but officials determined he was fourteen, which was two years older than allowed by rule). That was cool, and I rooted for Apopka the whole way.
As a freshman, I played junior varsity, and I pitched and played some outfield and a little third base. In my sophomore year, I made the varsity team (at East Ridge High School in Clermont, Florida) as a pitcher-only, which was very uncommon in 2004. I didn't pitch an inning on varsity my entire sophomore year, and I'd get sent to pitch innings for the junior varsity, but I practiced every day with the varsity team. The varsity coach had me shadow our best pitcher, who was also our quarterback. If he ran, I ran. If he threw a bullpen, I threw a bullpen. In my junior year, there were some injuries, and it gave me the opportunity to pitch, and I pitched very well. I wasn't a crazy prospect, but I did have some hype heading into my senior year; at least on my team, coaches expected me to be one of the guys. I didn't live up to those expectations as a senior. I pitched okay, but I wasn't the best pitcher on the team by any means. We did win districts, which we shouldn't have won because one of the teams in our district was undefeated all year, and we beat them in the playoffs. That was a crazy, awesome experience. I pitched the last game of my high school career, and we lost, so I dealt with that. 
What type of recruiting interest did you receive?: "I only had two colleges show interest in me, and both were NCAA Division II schools. One was Florida Southern, which is in Lakeland. The other was the University of West Florida in Pensacola. I visited both schools, but the only school that made me an offer was UWF. I had seventy-five percent of my tuition because of Bright Futures, which is for academics, and the baseball program picked up the other twenty-five percent, so I was on a full ride. I went to school there. 
As a freshman, I was the next guy up as a closer and reliever, so I didn't have a primary role. During that season, I was having crazy elbow injuries. The doctor told me I needed Tommy John surgery. When that happened, the school shut me down altogether. I didn't know what to do. My parents looked into the best person who should do the surgery, and they found Dr. James Andrews, the preeminent orthopedic surgeon in the world who had a facility in Pensacola. He was my team doctor, and I didn't even know it. He was the doctor who told me I needed the surgery, and I didn't even know who Dr. Andrews was. 
What was your injury history?: "I had elbow injuries my whole life. When I was a kid, I was in a sling for three months because something was going on with my growth plates. I was only in fourth grade. I had tendonitis every year. In high school, I had a minor hairline fracture in my growth plate. I never had a shoulder injury, but it was always elbow and forearm. I made my major league debut in 2014, and then in 2015, I was traded to the Tigers. I was at my best for about three or four starts, and then I went to the worst ever. Right around that time, I was driving to the field, and I had my fingers resting on my face, and my fingers were cold. I thought that was weird. Trainers warmed my fingers before I went out to pitch. If I was still pitching great, I would have made it a bigger deal, but I was struggling, so I didn't want to complain. I was then in the minor leagues, and my fingers were so cold. I looked down at my fingers, and they were black, and it wasn't from pine tar. I told the trainer that my hands were stinging, and I knew I needed to get it checked. The trainer told me the only way to get it checked was to get on the DL (injured list), and he knew I didn't want to do that. At this point, if I needed to get this fixed, I knew I needed to go on the DL. The next day, I got a bunch of tests done, and that's how I found out about the injury. After the season, our coach decided to do an exit meeting before our exit meeting. For some reason, I always thought this coach had bad feelings about me. 
 I was driving a $40,000 pickup truck, and he told me I'd never earned anything in my life and that he would make me earn my scholarship once I could pitch again. Little did he know that my uncle, Tom White, told me when I was nine that if I earned a college baseball scholarship, he'd buy me any car I wanted. When I got the scholarship, I called my uncle, who bought me the truck. I'm still pretty stubborn, but at that time, I was a kid, and I was stubborn, so I knew I wanted to retaliate. I just said, 'Yes, sir,' but I knew there would be another exit meeting. I got all of my thoughts together before the official exit meeting, and I was going to tell him how I really felt. I told him how I felt about his comments, that my uncle bought me the vehicle, and I went down the line and told him all the things I didn't feel were done right in the program. Long story short, there was a lot of stuff going on that I don't even think he knew was going on. I left the meeting, and about two hours later, he called and offered me my scholarship back. I said, 'No, thank you!' At that time, I was living with a kid, Matt Collins, who I grew up playing against and with in the Central Florida area. He needed Tommy John surgery as well and had it about a month later than I did. He told the coach the same things I did.
College and getting scouted
Later, I learned from Matt that he would go to Daytona Beach Community College because he had a relationship with the coach. I told Matt I wanted to come with him. He talked to the coach, and I met with him. He said we could be on their developmental team when we rehabilitated from our surgeries. We got to use the facilities, and the following year, he allowed us to walk on. We went through a return to throwing pamphlet that Dr. Andrews distributed for our throwing program. We were jumping fences to find a field to rehab. We were stretching one another's arms in the house. Without Matt, I would have never made it through rehab. 
 Going into my junior year, I had the opportunity to play in the Florida Collegiate Wood Bat League, but I had just started throwing bullpens again. When I was ten or eleven years old, I used to hit with Jeff Deardorff, who at the time was a Triple-A third baseman with the Yankees. He was from my area, and I'd go with my two best friends to hitting lessons with him. Now he was then a scout for the Yankees, so I contacted him about playing in the collegiate league because I wanted to see if he could get some Florida colleges to watch me play so I could earn a scholarship again. My dad and I hounded him, and he said, 'Sure, I'll watch you throw a bullpen, and I can tell you what I think.' I met him at Clermont's Bishop Field. My friend, Gary Decker, who wasn't a catcher, caught for me. His five-year-old sister held the radar gun behind the L-screen, and Jeff was down the third base line. After I threw, he said, 'Dude, the Yankees send me all over the state to find what I just saw. Do you have any interest in playing pro ball?'
 I answered, 'Well, obviously, but I don't know how this stuff works.' He asked me when I could do it again. Because it was only my third or fourth bullpen post-surgery, I told him I needed five or six days. That was the first time in my life I'd thrown over 89 miles per hour, and I'd hit 92 a couple of times. A week later, he visited again, and he brought a crosschecker. They liked what they saw, and they invited me to the Yankees spring training complex the following week to do it again. They were in extended spring training and were having a scrimmage game on one of their back fields. I was involved in the game, and I was wearing a Yankees uniform. I'm pretty sure I struck out two guys. When I came to the dugout, Jeff was grinning from ear to ear. He said, 'Your stock just went up. You were 92 to 94' He told me to go home, and he'd call me, which he did. He invited me to a pre-draft workout with kids from all over the country. I told him I'd make it happen. I stunk. I walked three or four guys. I was super down, but Jeff was still smiling ear to ear. He told me they just wanted to see me hit 94 again, and I did that. He told me to go home with a smile on my face."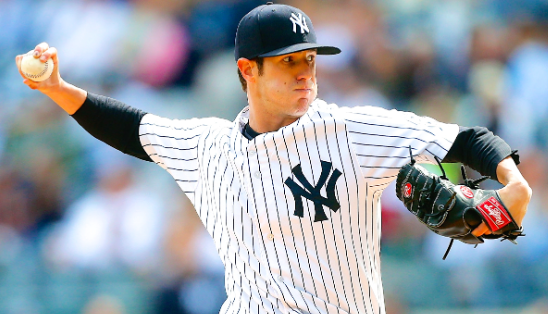 What happened to you on draft day?: "I asked Jeff, the Yankees scout, if I should pay attention to the draft. He said to start paying attention after the tenth round. I was at my best friend's house, and we were playing "Call of Duty." We had the laptop open, and we were listening to the draft, but we weren't really listening. Then my dad and his dad came bursting into the little guest house, and they said, 'You just got drafted!' We didn't even realize the computer had died. I was a fifteenth-round pick. We were freaking out. Jeff called to congratulate me. It was happening so fast that I didn't even know what was going on. Jeff asked me how much it would take to sign me. I said, 'How much MONEY? Dude, I have no idea.' I told him $250,000. They said they'd give me $100,000. I told them to send me the address, and I'd be there tomorrow."
What do you remember about your major league debut in 2014?: "My whole career is a crazy story, so it's hard not to give you all the details. That season was my second big league spring training. I had only been a starter during my career, and I went into big league spring training as a starter. I had finished the previous season in Double-A. Halfway through spring training, the pitching coach came up to me and asked if I had ever been a reliever before. I told him I had a few times in college, but not really. He said, 'Well, we're going to keep you around and see what you look like coming out of the bullpen.' I hung around until the very last day of spring training, and I needed to buy a suit because, after our game, we were getting on a plane and flying to Houston for opening day. They cut me that day. It was between me and (Dellin) Betances for the final roster spot. He went on to be an all-star that year, so it worked out really well. They cut me on the last day, and they told me they would send me to extended spring training and that I was going to the complex to build up to be a starter again because I had only been throwing an inning at a time in spring training.
The day before I was scheduled to throw my first four-inning start, they called me in and told me I was going to New York. I was freaking out, and my family was freaking out. We all flew to New York. I was there for nine days, and I didn't pitch. I didn't even warm up to get hot. I didn't even touch the rubber. My whole family was there for nine days, nothing happened, and then I got sent back to Triple-A, and they told me I would only be a reliever. I said, 'Okay, cool.' I made a couple of outings as a reliever in Triple-A, and I was awful. Then they called me into the manager's office, and they told me they received a call from up top, and I was going to start again, but it was going to be against the Red Sox in Fenway. I made my debut at Fenway. I'll never forget the feeling of running out of the bullpen to go out there because I couldn't feel my body. That's a feeling I'll never forget. The first batter I faced was Jackie Bradley Jr., and I walked him. I then faced Dustin Pedroia, and he hit a grounder to (Yankees shortstop Derek) Jeter. I always say Jeter booted it because it makes me feel good (Jeter was charged with an E6). I haven't seen it on replay, but I think it's a ball he could have turned a double play, but it didn't happen; at least in the moment, that's exactly how I felt. So they had first and third and nobody out, and I was like, 'Oh boy, here we go.' I faced Shane Victorino. It was a called slider, and I threw a slider. We didn't cross each other up, but the catcher (Brian McCann) whiffed it. It was called strike one, but a run scored on the passed ball. I didn't know what was going on. I had an insane amount of adrenaline, and I had just thrown a passed ball on a pitch that was called a strike. I was like, "What is going on?!?!'" I struck out Victorino, but I walked the next two guys, and they took me out of the game."
How did you feel when the Yankees traded you to Detroit on December 5, 2014? : "At the time, I watched a lot of MLB Network, and there were rumors that a trade may happen. My buddy called me, woke me up, and told me that Twitter was saying that I was about to get traded. I was like, "What?!?' When I was on the phone with him, my agent called and said the rumors were true, and it looked like the Yankees were trading me. He told me to hang by the phone. Five minutes later, I found out on TV I had been traded, and just minutes after that, my agent called. At the time, I was the man in the right place at the right time for the Yankees in 2014. I think there were some guys that were probably slotted ahead of me that were injured, but I was healthy, had pitched my tail off the previous year, and had made a great impression in spring training, and then got to the show and pitched really well after my debut. I knew I had made a good impression, but I also knew I probably wasn't the fifth starter going into spring training with the Yankees because of the other guys being available. When I got traded to Detroit, they told me they didn't usually communicate this, but the fifth spot in the rotation was mine to lose. That was a great feeling. I went into spring training, and I was the fifth starter."

What was it like representing the Tigers in the All-Star Game in Cleveland in 2019?: "The all-star experience was great. The thing I talk about the most is watching the home run derby because I grew up watching it, and I was there watching it on the field. It almost felt weird because I had watched it so many times. It wasn't the same feeling I had in my debut, but it was almost like doing something I wasn't supposed to do. The all-star experience was great for me and my family. (Editor's note: NPA pitcher Jose Berrios also pitched for the American League in the game. Greene retired Mike Moustakas, J.T. Realmuto, and Max Muncy in order in the top of the seventh inning).
Was your first encounter with Tom House, Robert Ambrose, and the National Pitching Association? "It happened during the last (2022-23) offseason. My agent, who was my former teammate, Alex Wilson, who I played with in Detroit, called and asked, 'Do you know who Tom House is?' I told him I'd heard the name and I'd seen some things on Twitter and Instagram about him, but beyond that, I have no idea who he is other than some pitching guy. He said, 'Look into him and call me back.' I looked into him, and I saw that he coached Nolan (Ryan) and that Tom Brady and other guys very highly praised him, so I was immediately intrigued. I called Alex back; told him I knew more about Tom and asked him what he had for me. Alex said he met Tom at the winter meetings, and they were talking about me. He said Tom felt he could help me throw hard again. At the time, after what had gone on with my free agent situation, I was convinced the only reason that teams were staying away from me was that they thought the only way I could get people out was if I threw hard, yet I knew I was an all-star when I wasn't throwing hard. I thought if I started throwing harder, some teams might start giving me some respect again. I said, 'I'll do anything to throw harder; let's get this guy on the line.' They told me that Tom and (NPA Vice President) Robert Ambrose would be in Tampa the following week and that I should meet with them. I told him to let me know where and when, and I'd be there. I drove to Tampa, we had dinner, and they presented to me how their operation works and what they'd do to help me. I'm a person who will try anything, especially if I believe in it. When I discovered how they believed they could help, I said, 'Great, where do I go?' Tom said he was in San Diego, and that's where I went on January 1 (2023). 
What were your early impressions of NPA and its protocols:  After talking to Tom and Robert before I left for San Diego, many things they explained made sense. There were some things I knew just because I'd played ball for so long, but I never heard it described in the manner they described it and the way they elaborated on it. That's what intrigued me the most. I had always been told at the peak of my leg lift to point my ass at the hitter, stay over the rubber, or bring my front knee to my back shoulder. All of these cues, but never to the depth of something like your back hip should be thirty degrees in front of your back foot while your front knee is behind your back leg. They just described it differently, and it made more sense to me that way. That was one of the things that I took away right off the bat. 
One of NPA's primary mechanical teaches is to GFF (Go Freakin' Fast). Was that an adjustment you needed to make?: "I was always someone who went extremely slow, so the 'go fast' adjustment was extremely difficult mainly because you can't sacrifice your sequence and timing for speed. Learning that if I go harder, I can throw harder can be a little dangerous because you have to go way faster but still be under control. You can go faster in NASCAR, but if you can't handle the turns, you will get beat. I had to figure out what going faster meant for me and how to do that while keeping an efficient sequence and good timing. It was difficult because I started by going as fast as I could, but I was losing a bit because my sequence wasn't correct. When I got 'Go Fast! buried in my brain, I worked backward from that point. I found a hybrid in the middle that I feel really good with. 
I was throwing 95 this summer, so finding a mix between going fast while still maintaining proper sequence was where I needed to be, and with that, my arm felt better as well because when I was going too fast, I was having some discomfort. When I backed off, going as fast as I could possibly go, my arm felt healthier. I could then start going faster again while staying pain-free, and I found the benefits of going fast and the happy place for me. I then got a job, and I was able to perform."
 What are a few things that Tom and Robert have brought to your process?: "Everything I thought I knew about the mental and emotional approach to baseball; they've reaffirmed. I've been around pro ball since 2009, and there isn't a pitching coach today, especially since iPads have gotten involved, who taught me about the mental and emotional aspects of pitching better than Tom and the (NPA) boys do. 
It's a huge missing point that our younger pitchers face. The last two years, I've mostly been in Triple-A, so I've been around young guys. I see the potential, and the arms, and the stuff that these kids have, but I ask them, 'Do you guys even talk about baseball? Are we even speaking about what it means to be prepared and why we should throw this pitch or that pitch, or do you only know your spin rate and what pitch gets swung and missed at the most?' If I'm going to war, I need to know what guns I have, what guns I'm more accurate shooting, and what gun shoots faster, but at the end of the day, I may be more comfortable shooting a rifle and not a handgun, or a handgun and not a rifle. I tell the young guys that you have to learn who you are as a pitcher and what works for you. The NPA guys do a good job explaining that and how important it is to have a pregame, in-game, and postgame strategy. Most pitching instructors in 2023 are not doing those things. They are holding an iPad and telling the pitcher if the shape of the pitch is good."
Getting back to the majors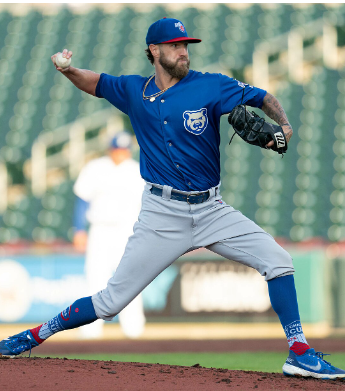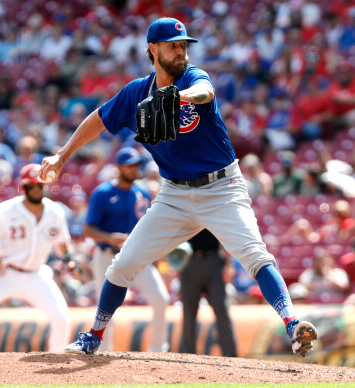 How did the opportunity for you to pitch with the Chicago Cubs materialize in 2023: "I was frustrated watching baseball during the 2023 season because watching other major league pitchers, I knew I could compete effectively. My ego was a little hurt because I thought, 'This team thinks that pitcher is better than me?' I have a lot of pride, so I wasn't watching, but the Cubs had some pitchers get injured at the major league level, and my agent reached out to them. At the time, I was playing in the CIFL, an indoor-only collegiate league in Central Florida, started by one of my high school teammates and one of his college teammates. It's an ingenious idea. It's primarily geared to college freshmen and sophomores who need to continue to train during the offseason. They play games every day and don't get rained out because all of the games are indoors. They have live at-bats in a game-like fashion. They keep score and track everything on Trackman. They have teams. It's a super sick fit because that's where I train when I'm home. I asked if I could pitch. They told me the kids would love it. I'd train and then play, or play and then train. It's a super sick setup. 
When my agent told the Cubs I was facing hitters twice a week, they said they'd come out and watch. They came to check me out, liked what they saw, and signed me. They sent me to Arizona, and I got into the Cubs pitching lab at their facility to work on several things. We collaborated on my throwing a four-seam, and they talked me into it. I was there for about a month, and they assigned me to Triple-A."
 When you made your Cubs debut in 2023, what were your emotions? "I got called up on a Friday. They had a doubleheader that day, and I didn't get used. Everyone was trying to figure out what was going on, but I was just happy to have a locker in the big leagues again. I didn't pitch the following day, but I pitched against the Reds on Sunday. After what I'd dealt with trying to get a job the year leading up to this opportunity, a lot of people would have quit. I wasn't willing to do that because I knew I could get big outs in big situations right now. I just need someone else to believe that, and eventually, they will. When I ran out to pitch in that inning, it was the closest feeling to my major league debut with the Yankees. I pitched in playoffs, and that's a different thing because it's the playoffs, but it's the closest thing to the playoffs that I'd experienced outside of my MLB debut."
 What are you doing this offseason to prepare for 2024: "I've given myself some time off from throwing because, in Triple-A, I was starting. I hadn't pitched more than two innings an outing in a long time until last summer. I'm super open to starting, and it brings the most value back to my name because the iPad is irrelevant if you are starting and getting hitters out for seven innings that's what matters. Everyone in the bullpen throws 100 miles per hour, and obviously, I don't, so the algorithms think I'm going to stink. I want to start, although pitching the ninth inning again works, too, because I think that fits my personality best. Now, I prepare for spring training and fight for a starting job in someone's rotation."