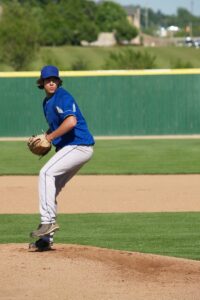 There are many key parts of good pitching delivery. One important part is creating a good energy angle from first movement to maximum leg lift. Decades of research indicate that energy angle is essential for forward momentum. Players can improve their energy angle through pitching lessons from our experts for better mechanics.
If your player needs help creating a stronger energy angle, talk to one of our coaches or get started with our V.I.P. online membership!
Why is Energy Angle Important for Pitchers?
So, why is energy angle so important? First, it's necessary to understand what energy angle is. This is basically the angle your body makes as you reach maximum leg lift. It's at this point that your body has no choice but to move forward.
From first movement to maximum leg lift, the goal is to move forward to create a healthy angle from the toe of your planted foot to the outside of the hip for your leading foot. A good goal for energy angle is 25° or more.
There are many reasons why we teach pitchers to improve their energy angle during pitching lessons. Scientific studies show that a good, strong energy angle encourages forward momentum. Early forward momentum translates to the ball at release. It can also increase stride length, which is also linked to pitching velocity and performance.
How do Pitching Lessons Teach Strong Energy Angles?
Unfortunately, many coaches out there give pitchers advice that actually negatively affects energy angle. For instance, many youth pitching coaches tell players to stop at the top, move toward second base, or to stay over the rubber at maximum leg lift. This advice is usually well-meant and thought to promote better balance. However, it can actually create bad habits that can hinder players from achieving their full potential, as it creates inefficient movements. Pitchers who take this advice have weak energy angles.
Instead, we recommend players create a strong energy angle. In pitching lessons, there are a few ways we help pitchers do this. One thing we say a lot is "go forward fast." This is a great way to help pitchers of all ages and skill levels think about forward momentum as soon as possible.
Another piece of pitching instruction advice you might hear from our coaches when energy angle is a concern is to lift and thrust. This means lift the leg and thrust the front hip forward. What it feels like to the player is pushing their butt toward home plate as they lift the leg. This helps players understand how to move their bodies so they can most effectively and efficiently use their mass to push their body toward the target throughout the delivery.
Getting this instruction as early as possible can help players develop efficient biomechanics that they can benefit from throughout their time as pitchers. If your youth pitching athlete needs help creating a better energy angle, our pitching lessons can help them learn strategies for better energy angle.
National Pitching – Your Source for Pitching Instruction from Youth to Pro Players
Our team at National Pitching is here to help players of all ages and skill levels improve their game. As a part of Tom House Sports, we use scientific study and decades of coaching experience to provide pitchers with a program for success that can help them improve performance and stay healthy. If you're ready to get started, find a coach near you or sign up for our V.I.P. membership for exclusive online content for pitchers.