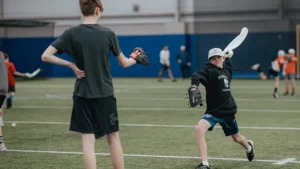 If you want to improve pitching performance like pitching velocity and control, it's essential to train your body for efficient mechanics and functional strength. One cross-specific training method for both mechanics and strength is the towel drill. We've found that towel drills are a really effective tool for all pitchers to use in deep training. In this blog, we'll teach you more about towel drills, what they do, and why pitchers should be doing them regularly.
For a health-first, science backed program specifically for pitchers, find a coach near you or sign up for a membership with National Pitching today.
What are Towel Drills? How Do They Help with Mechanics and Pitching Velocity?
Towel drills are a type of drill players learn through our pitching instruction program. You perform these during deep training, which is training by yourself outside of a competition. They can help you improve as a pitcher in many ways. They're also suitable for pitchers of all ages. This makes them a great training protocol to know at every stage, from youth to professional levels.
Towel drills can teach your nervous system to work faster and more efficiently. They can also strengthen your muscles and create neurological programming for pitcher-specific movements. Also, these drills allow you to train with less stress on your body than pitching from a mound.
As such, the Tom House Sports towel drill is one of the best tools in your arsenal for continual improvement. It's a safe way to improve your mechanics and functional strength on your own. You can also do them practically anywhere! When beginning with towel drills, you can start with just the towel on its own. This allows you to practice the full range of motion needed to improve mechanics, accuracy, and pitching velocity. As you progress, you can insert a normal or weighted baseball into the National Pitching towel to add extra resistance to train accelerator and decelerator muscles even more.
How to Do a Towel Drill
For a visual on how to do a towel drill, check out our video "THS Towel Drill" on the free videos page available on our site. This video features Tom House, Dean Doxakis, and Robert Ambrose discussing the benefits of the towel drill and also a visual break down on how to do the drill.
Generally, you'll need to set up a target for your drill to make sure you're hitting the target accurately to effectively train mechanical efficiency. To do so, you'll need to set your target a certain distance away. We recommend the "stride plus five" approach. This means you take your normal pitching stride and add five heel to toe steps. This is how far away your target should be. Also, the target should be right around eye height. From there, you can really do as many reps of the towel drill as you would like for your training. Pitchers can practice these drills basically anywhere any time to improve mechanics, strength, and pitching velocity. Everyone from youth to professional players can benefit from regular towel drills!
Get Pitching Instruction on the Tom House Sports Methodology Now
Our team at National Pitching offers a health-first, science-backed program specifically designed for rotational athletes. Pitchers can use our program for continual improvement throughout their careers. We work with elite athletes of all ages, from youngsters and high school pitching athletes all the way to the MLBs pros. Our program was developed by Dr. Tom House, the father of modern pitching mechanics, to provide players with results-based training. Get started with National Pitching today – find a coach near you or sign up for a virtual membership to start training.